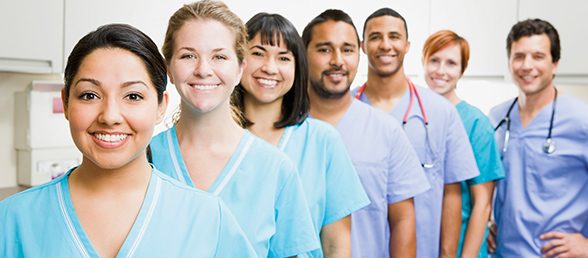 our team
Bon Secours Hospice uses a team approach to help patients and their families.
Team members include:
Physicians:  Our highly trained physicians oversee the medical care delivered to our patients. In hospice, patients can continue to see their regular doctor who will work in conjunction with our hospice staff.
Nurses:  Our specially trained nurses provide patient care and case management. They are responsible for the patient's nursing care, as well as education and support for patients and families. Our nurses, like all the other disciplines on the team, act as advocates for the patient and family.
Medical Social Workers:  Social workers are trained counselors who can provide an empathetic ear and/or a shoulder upon which to lean. The social worker also provides information concerning financial assistance, Medicare or Medicaid issues, and assistance with Family and Medical Leave requests, living wills/advanced medical directives, powers of attorney, and final arrangements.
Chaplains:  Our Bon Secours Hospice chaplains offer non-denominational support and work directly with patients and families on spiritual matters, and can coordinate assistance from churches, synagogues and other spiritual sources. The chaplains are experienced with end-of-life support, spiritual questions and discussions, and other issues associated with the life-and-death journey.
Certified Nursing Assistants (CNAs): Our CNAs are vital members of the team and focus on a patient's personal hygiene. Gentle, unhurried assistance with bathing and dressing is the CNA's area of expertise as is a focus on dignified comfort and safety. The Bon Secours Hospice CNAs also educate families on the techniques of safe and gentle personal care.
Bereavement Counselors:  Trained bereavement counselors help individuals and families handle their grief over the loss of a loved one through one-on-one and/or group counseling sessions and other activities. Bereavement services are provided for families for a year following the death of their loved one.
Music Therapist:  The Music Therapist performs a full range of professional music therapy services in patient homes, assisted living and skilled nursing settings, and at the Bon Secours Community Hospice House. This individual is a member of the Department of Spiritual Care Services and collaborates with the hospice team to provide music therapy as part of the holistic and interdisciplinary care of the patient and their family. Music therapy is a referral based service. For more information on music therapy contact board certified music therapist Robin Rio, MA, MT_BC, at Robin_Rio@bshsi.org.
Volunteers: Many family members of past hospice patients are grateful for the care their loved one received and want to "give back," so they enroll in our volunteer program. Our volunteers often are utilized as a calming presence, someone to sit with the patient while the caregiver takes some personal time. Some patients enjoy being read to or looking through family photo albums. Some prefer to be left to their own personal time. Bon Secours Hospice volunteers do not provide hands-on medical care. Instead they receive training in the hospice philosophy, in-home care, and how to request assistance if needed. Thorough background checks are performed on all volunteers.